Journaling is a great way to connect with yourself and to release the thoughts in your head that may be causing your mind to become cloudy.  Whenever I receive letters from clients who are seeking advice on how to work through their relationship issues or their sexual concerns, I always recommend the use of a journal.  To my surprise, there are less people using the power of putting pen to paper for the purpose of healing than those that do, and it is my goal to encourage more people to use this simple tool in the service of love.
Before I get into how you can begin and maintain your journal, let me explain more about what a erotic journal is specifically.
An Erotic Journal is the place where you document your sexual feelings, sexual desires, fears and experiences.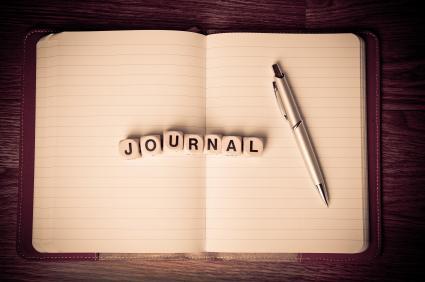 Your Erotic Journal is the place where you can be free to express yourself as you please without judgement.  The goal in using the journal is to get into the habit of focusing on your sexuality and making it a norm to discuss it in some form.  Typically, we choose to think about sex when we feel aroused and want to engage in some type of activity to satiate the desire.  While it's okay to think about sex when we want to meet the need, it's also a good habit to be aware of when and what you're thinking about sex throughout your days.  The minute inspiration strikes of any kind is the time you should write in your journal.  You will discover from going back and reading previous entries that sex is on your mind more times than you think.
Steps to beginning a Sex Journal 
Go to your local book store, or any store that sells journals,  and choose a journal that speaks to you.  Pick one that has a cover that draws you in and appeals to your senses.  You want to feel connected to this book to have motivation to use it often.
Use the inside of the front cover to dedicate the journal to your erotic musings. You can say something like: "I dedicate this journal to my sexual thoughts, experiences and desires." Whatever you are moved to write in your dedication, make sure to remember that this journal is only for the purpose that you set for it, and nothing more.
Make the time to write in your journal. Dedicate at least 5 minutes Daily to write in your journal.  If daily is too much for you, dedicate 3-4 days out of the week to documenting your erotic thoughts.
And that's it! Creating an erotic journal is simple.  It's the use of it that often proves to me more challenging for those who aren't used to expressing themselves in this way.
Pushing beyond your normal expressions is a form of therapy in itself. And knowing that you have the power to shift your perception is a mighty form of medicine. You have autonomy over your life and its experiences. Use your journal to do the inner work that is necessary for your healing and liberation.